Reports from Argentina indicate that out of favour National team coach, Jorge Sampoli is set to be sacked on Monday, July 16.
This was revealed by renowned Argentine football journalist Hernan CASTILLO on TV show on Friday, " Jorge SAMPAOLI leaving his position as head coach of Argentina has become imminent. An announcement is expected to be made on Monday" he said.
In an article published on TNT Sports, the relationship between him and Claudio TAPIA, the President of the Argentine Football Association, has broken down following their meeting on Wednesday. The two are no longer in talking terms and right now all communication between SAMPAOLI and the AFA will go through his lawyer Fernando BAREDES who arrived in Miami to help mediate his client's exit.
It is been reported that SAMPAOLI will not get his full compensation which is expected to be around $20 million dollars. Instead, both parties will agree to a settlement which is going less than $2 million dollars.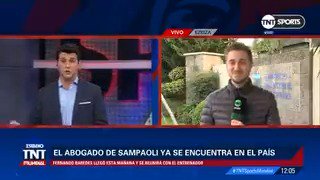 It appears the L'Alcudia tournament was just another from trying to keep this news out from the general public although this outcome inevitable after the AFA have successfully removed SAMPAOLI's coaching staff.
Claudio TAPIA stated on Thursday that Jorge SAMPAOLI is the Argentina coach, he has a contract.
Pablo AIMAR is expected to take over the Under 20 side while plenty of rumours are flying around the possibility of who will take charge of the senior team.
Though Diego SIMEONE, Mauricio POCHETINNO and Marcelo GALLARDO are among the frontrunner for the job, it appears all of them have gracefully declined the job. Can't blame them for the mess that the AFA created to itself.
Jose PEKERMAN, Ricardo GARECA and Matias ALMEYDA are currently further down the pecking order. To be honest, at this point, it's hard to say if anyone really wants this job.