Kumasi Asante Kotoko has been hit with some fresh bribery allegations concerning their game against Obuasi Ashgold.
Kotoko lost 1-0 to Ashgold at the Len Clay Stadium in a match played on Sunday, 12th May, 2019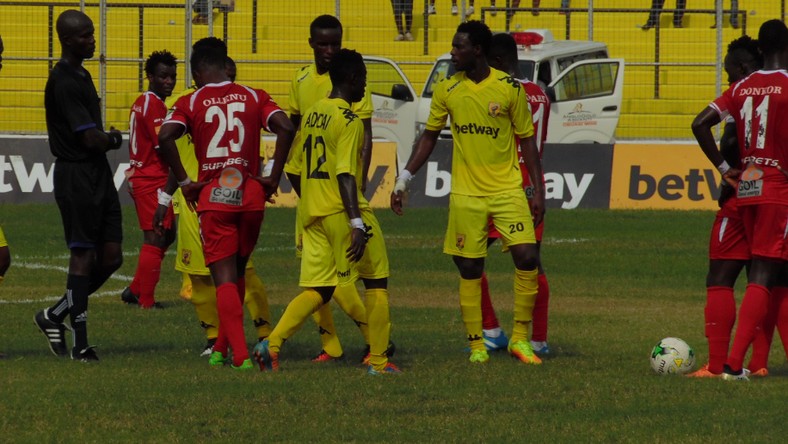 The allegation was confirmed by Referee Robert Tawiah Mensah, known as Kakabo against one staunch Kotoko supporter called Kofi Oduro" Shishila" on Thursday morning.
He said Kofi Oduro has been threatening him with calls to refund the money or face the consequence.
"It's true that before the Ashanti Gold SC match with Kotoko, monies were given to the match officials by a Kotoko official. I was Techiman when the operations manager of Kotoko called 'Shishila' said he wanted to meet the Referees for the match who were coming from Tamale" Referee Mensah told Nimde3 FM.
"He [Shishila] said he had money for the officials led by Referee Ali Alhassan, so a meeting should be held in Techiman since the referees said they can't meet us in Tamale after I called them"
"Shishila came to Techiman with a Nissan Visen numbered AS 2988 – 18 to talk so we can leave for Tamale to meet the referees for their match against Ashanti Gold"
"We met the Referees at the Tamale STC yard and gave them an undisclosed amount of money which was in a black polythene bag"
"He gave me 500 cedis for helping him to meet the referees because he said his team needed the points badly"
"After the match, he [Shishila] called me that he wants to retrieve his money from the referees because they failed to deliver as they promised"
"He called the referees and also told them he needs his 8000 cedis because they couldn't help his side to beat Ashanti Gold" he added