Ghanaian midfielder Thomas Teye Partey has made a passionate revelation about how his father sacrificed his life time properties to enhance his football career.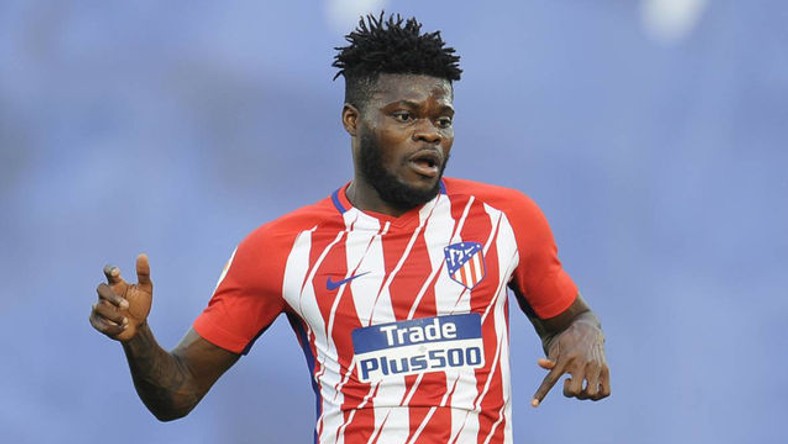 Partey has sprung into stardom as his current exploits for Atletico Madrid has made his services indispensable for the Spanish side.
As a result of the sterling performance the 26 year old Ghanaian is enjoying, he has attracted so many big clubs in Europe who are looking forward for his signature in the coming season.
In a recent interview with Spanish media outlet Marca, Partey disclosed the importance of his father in getting him to Spain where he got the opportunity to play for Atletico Madrid.
Challenging period
Thomas grew up in the neighbourhood of Odumase Krobo in the Easter Region of Ghana. His father was a coach for the local side, Odometa FC and his mum a petty trader.
He was the first of the eight children his parents had and so always carried the burden to assist his parents cater for the big family.
With a special eye for football as a coach, Partey's father gave special attention to him and his brother Francis. The two brothers gave their all in their father's team as they all saw football as the best way to alleviate the economic hardships in the family.
With the kind of talent Thomas exhibited, his father nicknamed him Senegal after his beloved friend.
Opportunity granted
Partey's chance to play abroad came as a big surprise to him as he was not expecting that to happen anytime soon. This happened after he was signed by an agent.
"There was another person who was better than I, a striker who scored all the goals, but he was not ready to play in Europe and wanted to play for a Ghanaian club," Partey disclosed.

"So, my turn came and the agent asked me what I wanted I said to triumph in football so as to help my family.

"He asked me who was my father and he went to speak to him to ask if he could take me to Spain for a trial, but never said which team.

"I went with the agent who did all my papers but I had nothing to do, I just trained, ate and slept until the day arrived when I had to travel, which I did not know when it would be or what time."
Father's sacrifice
The Atletico Madrid master midfielder admitted that he was not aware of the sacrifices his father made to secure him visa before he went on trials in Spain in 2012.
Partey explained: "He made a big effort and he sold things in order to get my papers and to buy me boots.
Family kept in the dark

"He had helped me since I was small as without boots you could not play. He also helped a lot the team from my neighbourhood and I remember we brought food."

Unfortunately, Partey didn't get an opportunity to say goodbye to his family before he had to travel to Spain.
"I got into a car and the agents took me to the capital, they gave me my passport and said: 'today you travel,'" he said.

"My dad was not at home, nobody from my family knew anything, nor that I was going that day because if they were told then it would cause a lot of problems.

"I travelled to Spain and it was six or seven months before anyone realized that I wasn't in Ghana."

And he never knew about his father's kind act until much later.

"My father was always OK with my decision because he did not have any help, it cost him a lot and he said nothing," he said.

"The following month they sent me money for me to buy boots. My mum was worried because she was thinking about what could happen to me.

"Sometimes I listened to her and others no. I always do what I think is best and for that reason I decided to travel without saying anything to anyone."                  
Partey was loaned to Mallorca and Almeria from Atletico B before getting the chance to play in Diego Simeone's side. He has also had 27 appearances for Ghana scoring 10 goals.