Ghana began the 2022 Commonwealth Games with mixed results. The Ghanaian contingent have participated in various evets at the games so far on day two.
The games are taking place in English City of Birmingham, and it started on Thursday, July 28, 2022. It will end on August 8, 2022. The Games involve 72 countries who belong to the Commonwealth of Nations.
In Hockey, both men and women teams lost woefully on match day one. India defeated the Women's team 5-0 on Friday afternoon. They could not handle the surging runs from the Indians. Ghana could not enter the dean of the India ns allowing their goalkeeper to enjoy a virtual holiday on the pitch.
They have another opportunity to redeem themselves against Canada, England and Wales respectively.
The Golden Sticks then lost to England 6-0 in the Men's competition. The insistent pressure from the English side was too hot for the Ghanaians to handle. After conceding the first goal, Ghana could not reorganize themselves and lost their defensive shape in their quest to get a goal.
The Table Tennis Team also failed to register any win on day one of the competition. Based in Group Two, Ghana's Men Team was beaten 3-0 by West African rivals Nigeria. They will face South Africa and Cyprus in their subsequent matches.
Female boxer, Onella Sathoud was not able to qualify for the next stage after losing her fight to Kerry Davis of England. Her fight was in the Women's Middleweight Category. Kerry won 4-0 against Onella.
Onella who is based in the USA is Ghana's only female boxer at the games.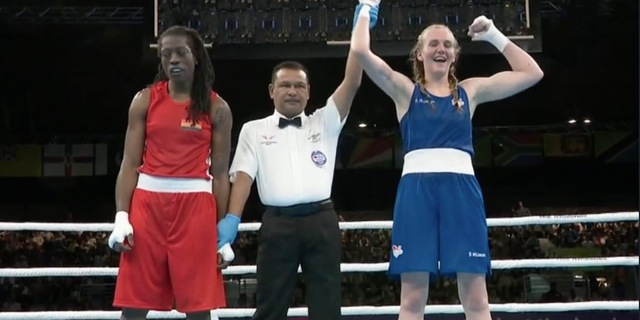 The Men's boxing team was hit with bad news after Shakul Samed failed doping test and was the first person to do so at the games. His blood sample was found to contain a prohibited substance. Thus, his opponent Jean Luc Rosalba got a walk over.
Samed was due to fight Luc at the Men's Light Heavey weight Category at the Round of 32.